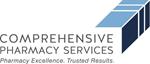 ASHP recognizes Memorial Hospital Pharmacy with National
MEMPHIS, Tennessee, Feb. 18, 2019 (GLOBE NEWSWIRE) – The American Society of Health-System Pharmacists (ASHP) has presented Memorial Hospital with the 2018 ASHP Best Practice Award. Memorial was recognized for the award for its integrated and holistic approach to drug therapy and chronic disease management. This approach has been implemented in inpatient and outpatient healthcare facilities, physician offices and the movement of every patient through the healthcare system. Memorial Hospital partners with Pharmacy Systems, Inc. to achieve clinical, operational and financial excellence in Memorial's pharmacy department.
"When medication management is well coordinated across the healthcare system and patients are given the training and tools to be successful, their short and long term clinical outcomes improve," said Craig Baker, PharmD , MBA, Director of Pharmacy at Memorial. "By collaborating with providers, team members and ancillary care areas, our pharmacy team has been able to remove barriers to care and deliver dramatically improved clinical outcomes for patients with chronic conditions.
The Pharmacy Medication and Disease Management Services was led by former Pharmacy Manager Britt Cummins and is focused on helping patients with medication and lifestyle issues using an approach innovative, collaborative and team-based. The results generated both improved clinical and financial outcomes, including:
Clinical results:
The care transition clinic reduced 30-day readmission rates for the same diagnosis from 21% to 4% and all-cause readmissions from 15.5% to 7%;
The Heart Failure Clinic recorded an 82% decrease in hospital admissions;
The COPD clinic saw a 63.5% decrease in hospital admissions;
The anticoagulation clinic improved treatment time from 66.4% to 83.4% and achieved a hospitalization rate of 1.98 / 100 patient-years compared to 13.9 for the usual doctor's office model and a rate of emergency room visits of 0.33 / 100 patient-years compared to 5.6 for the usual physician model.
Financial benefits:
Care transitions: $ 1.5 million over 30 months;
Heart Failure Clinic: $ 1.5 million over 27 months;
COPD clinic: $ 1.6 million per year over 2 years;
Anticoagulation clinic: $ 2.8 million over 3 years.
"Thank you to everyone whose hard work contributed to the success of this program, including current Memorial Health DOP Craig Baker, former Memorial Health DOP Britt Cummins and the entire pharmacy team," said Joseph Dula, Division Vice President, Clinical Operations for Pharmacy Systems, Inc. "By placing clinical pharmacists in primary care practices and eliminating gaps in care as patients move through the system health and to their home and return, our team has achieved significant clinical and financial results that impact both patient outcomes and Memorial Health outcomes. "
About Memorial Health
Memorial Health is an independent health care system based in Marysville, Ohio, which includes Memorial Hospital's main campus and satellite outpatient sites, including Memorial City Gate Medical Center; Memorial Urbana Medical Center; Memorial Hospital Outpatient Surgery Center; Memorial Gables – a skilled nursing facility; Memorial Medical Group – a network of physicians, mid-level providers and the Memorial Health Foundation.
About Pharmacy Systems, Inc. and Comprehensive Pharmacy Services
Pharmacy Systems, Inc., a full pharmacy service (CPS) company, has partnered with Memorial Health since 1994 and currently supports pharmacy and supply chain operations. CPS was founded almost 50 years ago and employs over 2,500 pharmacy professionals. It is the country's largest provider of pharmaceutical services to more than 700 hospitals and healthcare facilities. CPS helps clients solve complex issues such as high-swelling drug costs, specialty pharmacy, outpatient / retail strategy, operational efficiency, and staff efficiency. Additionally, they discuss 340B programs, a variety of compliance issues, and more. CPA helps pharmacy leaders improve costs, quality and safety across the continuum of care. For more information visit http://www.cpspharm.com.
CONTACT: James Wilkerson
[email protected]
901-748-0470